Image courtesy of PCSI
Somehow it's 2021.
While I don't expect the world to turn on a dime now that the shit show of 2020 is in the rear view mirror, I guess I do feel a sense of hope that changes -- for the better -- are coming. Perhaps incrementally, but I'll take whatever hope the new year can give to us.
So back to my virtual walking journey to New York. I'm again reminded that it's a good thing I'm not a professional blogger, because it's now been almost 8 weeks since I last posted anything. When so much time passes, I feel like the places I'm "traveling" through on my journey get short shrift because there are so many to research that it becomes a matter of quantity over quality.
And not only that, but a couple of momentous events have occurred since my last post, the most notable being that I finally stepped out of New Mexico into Texas on December 17 after crossing into it from Arizona on July 4. When you're walking diagonally across New Mexico, apparently it takes a while.
Through New Mexico and beyond...
The second momentous event occurred today, when I discovered I'd reached 700 miles. Almost all in my backyard. Which is less than 0.23 acres. Kinda crazy.

700 miles in a small space...
So where, in fact, have I "been" since I last posted?
Well, Cuervo, New Mexico for one. Cuervo is yet another ghost town in the long list of weird and wonderful abandoned places in this state. The town apparently tried valiantly to hang in there, but became yet another statistic when I-40 was built and cut the town in two. According to Wikipedia, Cuervo began in 1901 when the railroad came thorough, and then really started to grow when the surrounding land was opened to cattle ranching in 1910. The town's population peaked in the 1940s at over 300 when Route 66 came through. Today, though, there are just two homes in the community that appear updated and inhabited, along with one auto repair business, and the community's long-abandoned school building and church appear to be undergoing restoration. This post provides some photos and a more colorful narrative.

Leaving Cuervo, the next town I passed through was Newkirk, New Mexico. According to Wikipedia, Newkirk had a whopping population of 7 people in 2010, and apparently still has its own zip code. This post provides some insight into the town today, as well as a short blurb about Cuervo at the end.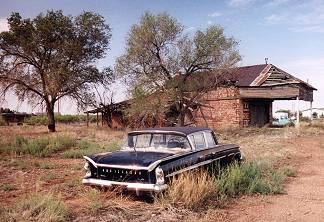 Newkirk, New Mexico, a town that's seen better days (photo courtesy of The Road Wanderer)
At this point Google Maps took me on a detour off Route 66 to head north to Conchas Lake, a 25-mile long reservoir in northeastern New Mexico. The lake is created on the Canadian River behind Conchas Dam, which was completed in 1939. Apparently Conchas Lake features "secluded coves, canyons, and sandy beaches, excellent for camping, boating, and fishing" and is one of New Mexico's largest lakes.
After viewing the lake, I then headed southeast to meet up with Route 66 once again, this time in the town of Tucumcari, which is definitely not a ghost town, seeing as how it's the largest city on the highway between Amarillo, Texas and Albuquerque, New Mexico. In fact, Tucumcari appears to have a number of interesting museums to explore, including a dinosaur museum! Oh, I am so all over that when I'm able to visit the town in real life again.
According to Wikipedia, the Chicago, Rock Island and Pacific Railroad built a construction camp in 1901 that eventually became Tucumcari. Originally the camp was called Ragtown, and then morphed into Six Shooter Siding due to numerous gunfights that broke out there. The camp then attained its first formal name, Douglas, but only for a short time until it grew into a permanent settlement, at which point it was renamed Tucumcari in 1908. The name was taken from Tucumcari Mountain, which is situated near the community. The origin of the mountain's name is uncertain; it may have been derived from the Comanche word tʉkamʉkarʉ, which means 'ambush'. A 1777 burial record mentions a Comanche woman and her child captured in a battle at Cuchuncari, which is believed to be an early version of the name Tucumcari.
If you read further down the Wikipedia page, there's an interesting legend surrounding the area involving Apache Chief Wautonomah, and a series of movies and TV shows have been filmed in the area.
Next up on my journey across New Mexico was Logan. There's not much on Wikipedia or elsewhere about this town; it seems the Ute Dam, its reservoir, and Ute Lake State Park west of town are some of the main attractions. From there the last town I visited before crossing into Texas was Nara Visa, an unincorporated village in far northeastern New Mexico. According to Wikipedia, in 1919 Nara Visa had eight saloons, at least three dance halls, drugs stores, general merchandise stores, a barber shop, butcher shops, millinery shops, auto suppliers, hotels, garages, and a bank. Sounds like a rockin' place 101 years ago -- today it's not a complete ghost town, but it does seem to be a "shell of its former self."
With that I think I'll hang up the towel for the night and tackle the places I've traveled through in Texas in another post. Props to you if you're still with me at this point. In the spirit of the new year, I wish you all the best as we leave 2020 behind and look forward to better times in 2021.